CV
Jan Jelinek's works translate popular music sources into abstract textures. Rather than using traditional instruments, he constructs collages out of tiny sound particles. Since 2000, he has released material under both his own name and various pseudonyms (incl. Ursula Bogner). His many collaborations include projects with Sven-Åke Johansson, Sarah Morris and Masayoshi Fujita. In 2007, together with Hanno Leichtmann and Andrew Pekler, he founded the improvisation trio Groupshow, and in 2008 he established the Faitiche label as a publishing platform for his own experiments, for collaborations, and for works by musician friends. Since 2012, he has been writing and producing experimental radio plays for public broadcaster Südwestrundfunk (SWR) that explore fictional identities and soundscapes.

Personal Data
Name: Jan Jelinek
Date/Place Of Birth: 09/23/1971, Bad-Hersfeld
School Education
1978-1991 elementary school, high/senior school, Darmstadt
University Education
1993-1995 Law at Johann Wolfgang Goethe-Universität, Frankfurt am Main
1995-2001 Sociology at Technische Universität Berlin, Philosophy at Humbolduniversität Berlin

Collaborations / Commissioned Work (selection)
2000 Young Media Pavillon, EXPO2000 Hannover, commissioned composition for 3deluxe
2001 ICE-Compositions, LP/photo edition, with US-American visual artist Sarah Morris
2002 Improvisations and Edits, Tokyo 26.09.2001, CD/concerts, with Japanese improvisation collective Computer Soup
2003 The sampling matters EP, LP, with German writer Thomas Meinecke
2003 1+3+1, CD/LP/concerts, with Australian jazz trio Triosk
2005 A/V concerts with German video artist Karl Kliem - at Centre Pompidou Paris, among others
2008 Groupshow: The matyrdom of Groupshow, CD/concerts, with musicians Andrew Pekler and Hanno Leichtmann
2008 Groupshow: Empire, installative concerts for Andy Warhol's Empire, with musicians Andrew Pekler and Hanno Leichtmann
2010 Bird, Lake, Objects, CD/LP/concerts, with Japanese vibraphone player Masayoshi Fujita
2010 Fragments – Volume 1, commissioned composition for Canadian choreographer Sylvain Émard
2013 WHITEvoid, commissioned composition and concert for a light sculpture by Christoph Bauder, Salon del Mobile Milan
2013 Groupshow: Live at Skymall, LP/concerts, with musicians Andrew Pekler and Hanno Leichtmann
2014 Farben presents James DIN A4, CD/LP, with German visual artist Dennis Busch
2016 Schaum, CD/LP, with Japanese vibraphon player Masayoshi Fujita
2018 puls-plus-puls, LP/concerts with Swedish percussionist Sven-Åke Johansson
2019 Signals Bulletin, LP/concerts with Japanese sound artist ASUNA
2022 Beispiel: Muster, LP with German sound and video artist Frank Bretschneider.
Radio Work
2012 Kennen Sie Otahiti?, SWR2 (composition and realization)
2013 Dialoge zur Anthropologie, SWR2 (composition and realization)
2014 Das Scheitern der bemannten Raumfahrt, SWR2 (composition and realization)
2015 Beweisstücke für das Bombardement, SWR2 (composition and realization)
2017 Zwischen – 12 Lautgedichte, SWR2 (composition and realization)
2020 Vom Rohen und Gekochten, SWR2 (composition and realization)
2022 Überwachung - in drei Episoden, SWR2 (composition and realization)
2023 Social Engineering, SWR2 (compostion and realization)
Exhibitions / Installations (selection)
2009 Pluto hat einen Mond, Ursula Bogner scores/drawings, Laura Mars Galerie Berlin
2011 Mélodie: toujours l'art, Ursula Bogner scores/drawings/ index cards under pseudonym Ursula Bogner, CEAAC Strasbourg
2011 Rapid Rabbit, Ursula Bogner drawings/index cards, Künstlerhaus Frise Hamburg
2012 CTM12 Spectral, Usula Bogner drawings/index cards, Kunstraum Kreuzberg Bethanien Berlin
2013 With a name like yours, you might be any shape, drawings/index cards under pseudonym Ursula Bogner, Kunstpavillon Innsbruck
2013 Temple of Faitiche, installation, Laura Mars Galerie and HKW Berlin
2013 Ich bin eine andere Welt, Ursula Bogner drawings/index cards/ performance, Xhibit Akademie der Künste Wien
2015 Écoutez voir, drawings/Faitiche label artwork, Maison des éditions Pyrénées Pau
2017 Seeing Sounds: Visual Identities Exhibition, Faitiche label artwork, Loop Funkhaus Berlin
2019 Klangkomposition für Zwischen/Raum, interdisciplinary installation, idea & concept Peter Granser
2019 Zwischen, Independent Publishing Fair Leipzig
2019 Faitiche, est. 2008, Faitiche label 11th anniversary exhibition, Laura Mars Gallery Berlin
2020 Hyperion, 4-channel-Audio/Video-Installation on the occasion of Donaueschinger Musiktage, Museum Art.Plus Donaueschingen
2021 all_go_rhythm_This is A FREE CONCERT, group show on writing and drawing sound, Galerie oqbo Berlin
2022 Zwischen installation, FTMA - Sound Art Festival Paris
Album Releases / Publications (selection)
2000 Gramm: Personal Rock, CD/LP
2001 Jan Jelinek: Loop-Finding-Jazz-Records, CD/LP
2003 Farben: Textstar, CD/LP
2006 Jan Jelinek: Kosmischer Pitch, CD/LP
2007 Jan Jelinek: Tierbeobachtungen, CD/LP
2008 Ursula Bogner: Recordings 1969-1988, CD/LP
2009 Gesellschaft zur Emanzipation des Samples: Circulations, CD
2011 Ursula Bogner: Sonne = Blackbox, Buch/CD/LP
2014 Jan Jelinek: Temple, LP/USB-Betonkubus
2018 Jan Jelinek: Zwischen, LP
2022 Jan Jelinek: LA Screen Memories, film (a/v collage)
Awards / Scholarships / Nominations
2012 Karl-Sczuka Förderpreis / award for Kennen Sie Otahiti?
2014 Villa Kamogawa, Goethe Institut Kyoto
2016 Villa Aurora, Los Angeles
2018 Palma Ars Acustica, finalist with Zwischen - 12 Lautgedichte
2019 Musikfonds grant for Zwischen/Raum
2021 Recherchestipendium für Ernste Musik und Klangkunst
2022 Nomination for the MuVi-Awards at the 68th International Short Film Festival Oberhausen for the film / A/V-collage LA Screen Memories
2022 Karl-Sczuka Preis / award for Überwachung, in drei Episoden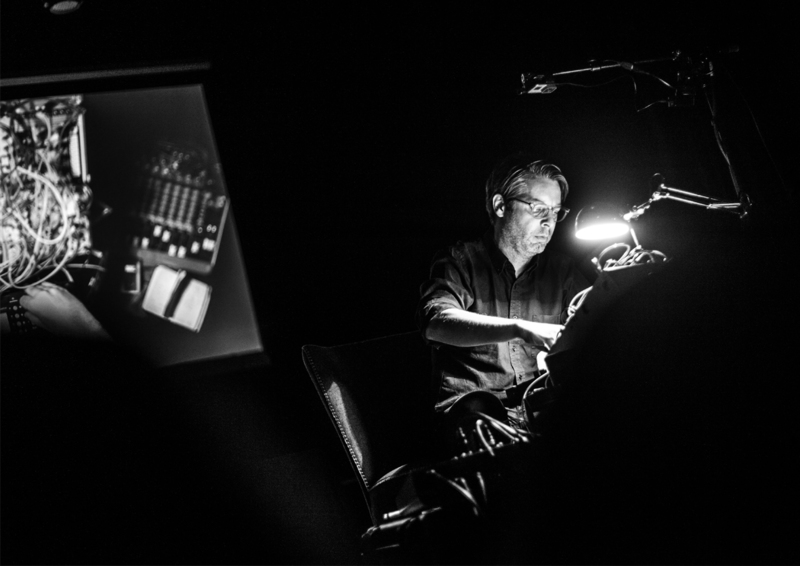 photo by Omar Sverisson, Reykjavik 2018